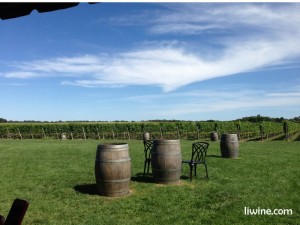 Out on Long Island's eastern end, the land splits into two distinct forks. The more southerly of them brings to mind celebrity-studded beaches, but the North Fork is famous in its own right: This is Long Island Wine Country.
It hasn't always been that way. Potatoes were the area's original claim to fame. The region is still largely agricultural, and several potato farms remain today. By the 1970s, however, many of those were gone, leaving behind vacant fields and barns.
One of those abandoned farms attracted Long Island natives Louisa and Alex Hargrave, a twenty-something couple who dared to take a chance. In 1973, ignoring friends who questioned their sanity, they turned their newly purchased Cutchogue land by hand and planted grapes.
Several things conspired against them. Long Island weather was too cold; its soil too sandy; its hurricanes too severe. However, it did possess in its favor a maritime climate, not unlike that enjoyed by successful grape growers in France.
That first Long Island vineyard did attract attention, and despite many early setbacks, some of its later crops were creditable. The Hargrave's success with cabernet sauvignon and pinot noir in particular inspired others to take a chance. In 1976, New York's Farm Winery Act, a legislation allowing grape growers to establish wineries and sell their output directly to the public, further spurred the industry's growth.
While all of the early Long Island vintners enjoyed a healthy appreciation of good wine, most had had no prior farming experience. Each enterprise had its own way of doing things, and these viticulturists mainly grew what they liked to drink. Because the North Fork's maritime climate resembled that of Bordeaux, France, most planted at least some cabernet sauvignon and sauvignon blanc. In the 1980s, bowing to its enormous popularity, they added chardonnay.
The Long Island wine industry celebrated its 15th anniversary in 1988 with a conference at which, among other things, more-experienced growers led seminars concerning best practices for cultivating grapes in maritime conditions. Lessons learned here led to a marked improvement in the quality of East End wines.
As Long Island vintners came to realize that merlots would produce the most reliably consistent crop, it quickly joined the chardonnays and sauvignon blancs as some of the North Fork's most-planted varieties. However, due to Long Island's unpredictable climate, some years were better than others, and the bad years tended to alienate consumers who preferred a more reliable consistency.
Nevertheless, experimentation continued, and by 1999, Long Island vintners were growing 29 varieties of grape. Just two years later, the extremely dry summer of 2001 rewarded them with one of their best crops yet.
Since then, these wines have continued to improve, and aficionados are taking notice. In February 2013, Wine Enthusiast Magazine included Long Island's North Fork on its list of the world's top 10 wine travel destinations for the coming year. The honors go to the wine, but the credit really goes to the Hargraves. Although they sold that original vineyard back in 1999, they will always be remembered as the pioneers who dared to get things started.
---
© 2016-2019 by LIWine.com, an LiVenture.
All rights reserved. No part of this document may be reproduced or transmitted in any form or by any means,
electronic, mechanical, photocopying, recording, or otherwise, without prior written permission of LiVentures.