On Holidays, special occasions, or even just to go with dinner, almost everybody consumes wine. Drinking wine has also benefits to the human body as it is a good source of anti-oxidants, and taking small quantities of it can decrease the risk of heart disease, stroke, diabetes, and even cancer. Wine comes from fermented grapes of different varieties that can create different winery styles and has been produced all around the world for thousands of years. Besides grapes, wine can also be produced through fermentation of rice and innumerable fruits such as pomegranate, apple and elderberry. Each year, more and more countries start producing wine varieties to offer the world but here are the major wine regions around the world that produces almost 80% of the wine on our planet:
Veneto in Italy
Located in the north-eastern part of Italy, Veneto is one of the three major wine regions of the country collectively known as Tre Venezie and is also the biggest DOC producer of the three.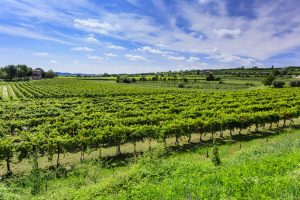 Veneto is the home to the famous Soave and Prosecco wines, with the region under DOC produces more whites despite the fact that Tre Venezie produces more red than white. The cool climate of the region is favorable to the growth of Garganega which is mainly used for Soave. Veneto houses Padua, which is famous for the Moscato fior d'arancio, a sparkling dessert wine. Breganze is also within the region which is famous for Torcolato, adessert wine produced from the Vespiaolo grape.
Bordeaux in France
It is one of the three most famous wine producing regions in France, the other two being Burgundy and Champagne. 89% of wines produced in the region is red. The region is an a very good environment to grow grapes, with limestone as the foundation leading to a calcium-abundant soil structure.
Rioja in Spain
Subdivided into three regions : Rioja Alta on the western edge of the region and is known for its "old world" wine style, Rioja Alavesa that produces highly acidic with fuller body wine, and Rioja Baja which is strongly influenced by a Mediterranean climate producing deeply colored wines with high alcohol content up to 18%. Wines produced from Rioja are a blend of different grape varieties, and with styles that can either be tinto, blanco, or Rosado. Festivals showcasing wines are also celebrated in towns from Rioja, like Haro, which celebrates Batalla de Vino where participants join in a food fight with wine.
Napa Valley California
Napa Valley is considered one of the premier wine regions in the world. Records of commercial wine production in the region date back to the nineteenth century, but premium wine production dates back only to the 1960s.
The combination of Mediterranean climate, geography and geology of the region are conducive to growing quality wine grapes. John Patchett established the Napa Valley's first commercial vineyard in 1858. In 1861 Charles Krug established another of Napa Valley's first commercial wineries in St. Helena. Viticulture in Napa suffered several setbacks in the late 19th and early 20th centuries, including an outbreak of the vine disease phylloxera, the institution of Prohibition, and the Great Depression. The wine industry in Napa Valley recovered, and helped by the results of the Paris Wine Tasting of 1976, came to be seen as capable of producing the best quality wine – equal to that of Old World wine regions. Napa Valley is now a major enotourism destination.
Long Island in the United States of America
Said to be one of the most exciting wine regions in the USA, Long Island has its entire east end consisted of wineries which apart from wine production, also offers tours to tourists who want to experience the beautiful scenery of the region and all the basics about winery and vineyards. Working with their own terroir, winemakers of Long Island are "starting to define what a Long Island wine should be", with Paumanok Vineyards being a fine example (plus more long Island wineries of course).
Stellenbosch in South Africa
Stellenbosch is one of the two and the larger wine producing regions in South Africa producing about 1 billion liters of wine annually. Lying at the foot of the Cape Fold mountain range, the soil in the region is favorable to grape growing, possessing a wide range of soils from light, sandy soils to decomposed granite. Cabernet Sauvignon from Stellenbosch is starting to get a good reputation as a fine wine.
Granite Belt in Queensland, Australia
Combining the region's famous terroir, coolclimate and high altitude, Granite Belt is in it to create award winning wines.
Concha y Toro in Chile
The largest wine producer from Latin America, founded by Don Melchor de Santiago Concha y Toro and his wifr, Emiliana Subercaseaux in 1883.
Rheinhessen in Germany
The largest of the 13 German wine regions, and the home to Liebfraumilch, a style of semi-sweet white German wine.
---
© 2016-2019 by LIWine.com, an LiVenture.
All rights reserved. No part of this document may be reproduced or transmitted in any form or by any means,
electronic, mechanical, photocopying, recording, or otherwise, without prior written permission of LiVentures.